Types of T-shirts Men Should Own of 2023
Prepare for the ultimate T-shirt guide! Owning the appropriate collection of T-shirts can serve as a great accessory in your wardrobe if you're a man. In 2023, several T-shirts will fit all sorts of different lifestyles and occasions. From workout companions to office wear, we have got you covered.
The MS Evolution Cooling Performance T-Shirt is engineered with the finest lightweight and breathable fabric that keeps you cool and dry despite how tough the competition gets. The athletic ft is tailored to your every move while the raglan sleeve design adds in an extra touch of comfort.
With its V-neck collar, you'll stay cool and stylish throughout the game. And if you're worried about bacteria and odors, don't be! The antimicrobial finish has got you covered. Besides the black and gray colors, it's machine washable and dryer safe. The Evolution Performance Quick Dry T-Shirt still is the perfect workout companion. With its advanced functionality fabric, you'll be prepared to face any challenge. It is very breathable, light, and comfortable. You won't often chafe again, thanks to the flatlock seams!
Additionally, it has a crewneck, is offered in black, blue, and maroon hues, and is designed to accommodate people of various body types. The fabric comprises 89% polyester and 11% spandex, making it durable and easy to maintain. To begin, you only need to toss it in your washing machine.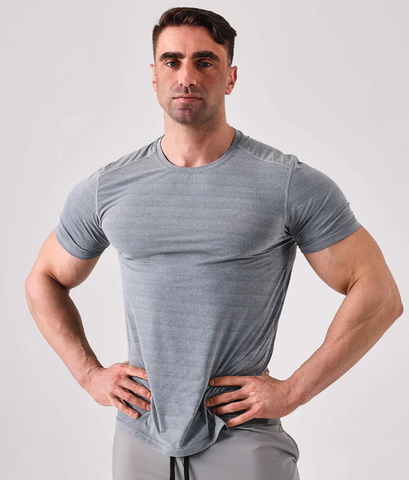 Made from 100% polyester, this shirt offers quick-dry moisture-wicking technology that keeps you cool and dry throughout the day. Plus, with its enhanced breathability and UPF 50+ sun protection, you can confidently take on any outdoor adventure.
The stylish mesh panel detail and anti-odor technology add a touch of sophistication, while the tag less neck label ensures maximum comfort. The MS Cotton Long Sleeve Henley is designed again in comfortable stretch fabric ensuring that you feel great all day long.
This shirt comes in sizes S-XXL and has seven different colors to select from! Made of cotton, this shirt is easy to maintain and can be put into the machine without any trouble. It has a regular fit and hence normal length so it's suitable for all kinds of bodies. Go ahead and take this shirt to the offices or out for a night-out, it will surely turn heads. So why wait? Get your hands on the MS Cotton Long Sleeve Henley today and experience comfort and style!
This is the ideal outfit for the busy man on the run because it dries quickly and is elastic. The rounded neckline and short sleeve render the quick dry T-shirt a versatile option for any occasion, and the thermal transferring print makes it feel as smooth as silk against your skin. You won't want to take it off ever! The best thing, though? Thanks to quick-dry fabric, you won't have to worry about perspiring through it. Additionally, the timeless crew neck style and normal ft make it ideal for any casual occasion.
The entire polyester fabric is breezy and gentle on the skin to keep you comfy. Just throw it in your washing machine and tumble dry low for simple maintenance.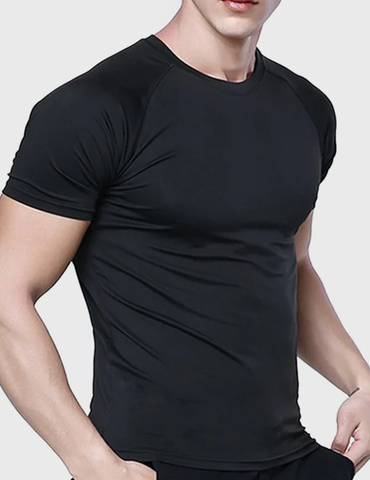 The MS Cap Sleeve Muscle Stretch Cotton T-Shirt epitomizes comfort and style. This shirt has a muscle-stretch design and is made entirely of cotton. The cap sleeves and round neckline give it a feminine touch, while the athletic shape draws attention to your contours.
Also, no matter the task, the shirt's great cotton/spandex combination will stretch with you. It is ideal for a day out or a workout because of its athletic feet, long, curved hem, and relaxed round collar. You won't have trouble locating your ideal match, given that it comes in khaki, black, white, military green, purple, earthy yellow, blue and pink, yellow, black, and white.
Wrap Up 
T-shirts are synonymous with ease, fashion, and toughness. And it was not puzzling to see aha select at the forefront when bringing you the latest makes in the industry—this ranges from cooling, fast during, and comfortable fabric with easy-to-wash tech. So, if you are looking for a garment that will feel comfortable on your skin, stop waiting and visit this page to get the ideal T-shirt!