HERIVI Repair Ampule Serum 1 Ml x 15 Counts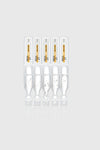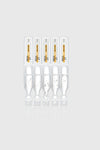 HERIVI Repair Ampule Serum 1 Ml x 15 Counts

The renewal of your skin starts with this repair ampule.
WHAT IS IT? 
Repair, exfoliates, unclogs pores, evens skin tone, prevents breakouts
WHICH SKIN TYPE IS IT GOOD FOR?
WHY IT'S SPECIAL:
Hyaluronic Acid – Hydrating; Skin-Shielding
Ectoin – Repair; Antioxidant
Oligopeptide – Repair; Renew Skin; Reduce Redness
HOW TO USE
Apply this serum all over your face. It may be used daily, during both your morning and night routines.We recommend using sunscreen before being exposed to sunlight to avoid future pigmentation.