M's 1.5" Width Metal Buckle Tactical Golf Belt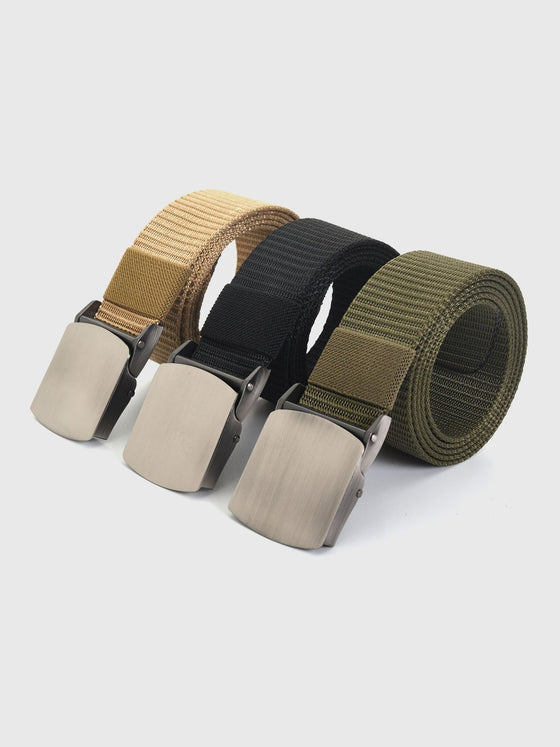 M's 1.5" Width Metal Buckle Tactical Golf Belt


This is Aha moment!

This is a tactical belt. It's made with a metal buckle. Not only used for daily wearing, but also a good partner for outdoor sports, hunting, shooting, etc.

Product Feature

Metal buckle closure, fully adjustable
Lightweight and wear-resisting nylon, comfortable and breathable
Removable automatic Buckle, no holes in belt. If the Strap is too long for you, you can trim the strap length to fit your size.
Fabric & Care
Material: 100% Nylon
Size: The total length is 120cm(47Inch), strap width is 3.8 cm(1.5 Inches). Buckle length: 6 cm(2.4 Inch), Buckle Width:4.5cm(1.8 Inch)
Weight:155g
Care: Wet Wipe Clean
Imported
Size & Fit
Style: Casual & tactical
Fit Type: adjustable fit

These belts seem to be made very well!!! I have paid more for lesser quality. The belt is very durable and seems it would hold up very well for concealed carry or any thing you need to attach to it in a work related setting. It also is very stylish and could be worn for casual dress.
I have not had extensive time with this product, but initial usage shows it to b practical, durable, and stylish. The buckle involves mechanical parts to hold the buckle in place rather than traditional prongs, bolts, and holes. As long as that works, the belt should perform well.
The belts are cool! The release latch takes a bit of getting used to, but it works easily. The belts are strong and sturdy, and add zero bulk to the waistline. Quite sleek!