M's 3 Packs AIRFLOW 5" Performance Boxer Brief-3-Pack Boxer Briefs
For Leg day or night out, you need this fine underwear to outperform workout and workweek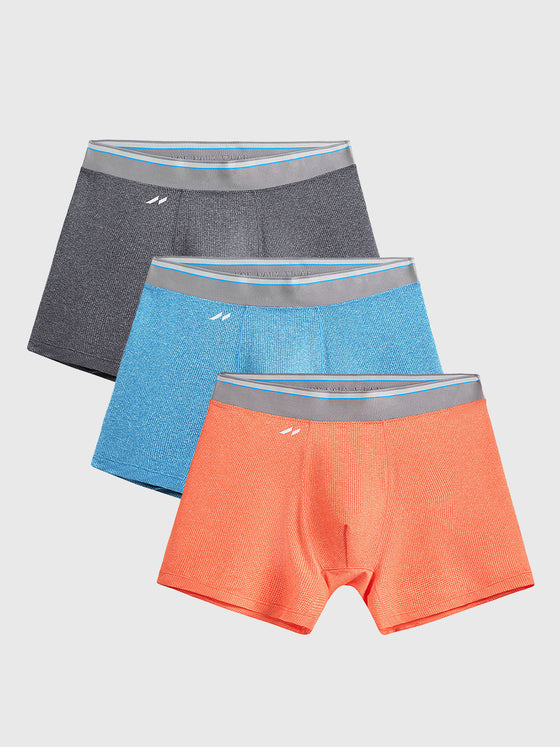 M's 3 Packs AIRFLOW 5" Performance Boxer Brief-3-Pack Boxer Briefs
For Leg day or night out, you need this fine underwear to outperform workout and workweek

We Engineered Our Boxer Brief for All-Day Comfort
Built for movement, our breathable fabric wicks moisture and dries fast, keeping you cool and dry even through sweaty workouts. Gym proofed modern mens active fit.
The anti-curl waistband stays put, while the tech fabric prevents chafing and riding up. Whether you're crushing a gym session or powering through your workday, our boxer brief has your comfort covered.
We precision-engineered the features you need to stay dry and comfortable morning to night. Discover everyday underwear that's ready for your active lifestyle.


Breathability Plus
Hands down, the best underwear I've ever tried. They feel amazing against my skin, and they're like a breath of fresh air, especially on hot days when I'm sweating. This purchase was a winner!
Quality Worth the Price
These underwear are really cost-effective. They last a long time, provide great comfort and look stylish, the 3 pack is a real bargain and I plan on buying more.
M's 3 Packs AIRFLOW 5" Performance Boxer Brief-Blue/Charcoal Heather/Navy