Soy Wax Candle with Black Lid and Tawny Fragrance 7oz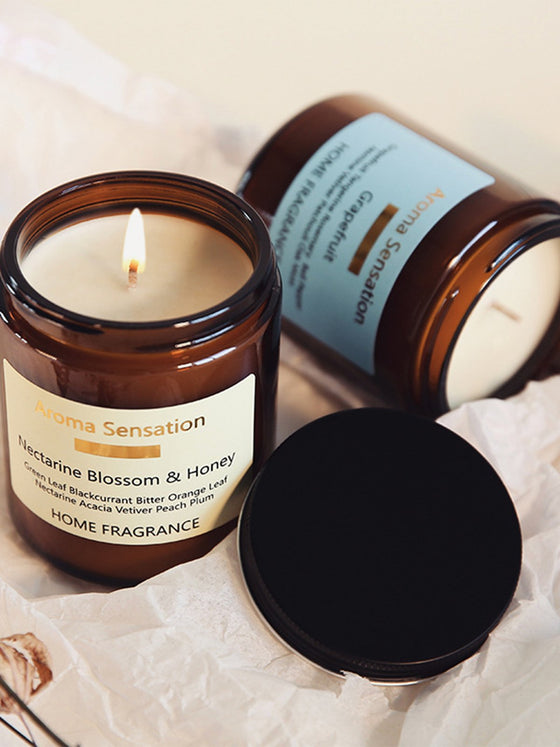 Soy Wax Candle with Black Lid and Tawny Fragrance 7oz

This is AHA moment!
It is a charming scented candle which perceives the beauty of life through its aroma, creating an inspired addition to your home.
Product Details
Scent:6 scents, Earl Grey Tea with Gherkins; Garnetberry; Grapefruit; Tokyo Citrus; Peony, and Red Fleur; Oil Peach Blossom Honey.
Apply scene: Suitable for family and others.
Available time: It is durable and everlasting.
Effect: It can make people soothing and relaxed, adding spice to life.
Fragrance Notes
Apple:Top: apple, lemon, and jasmine; Mid: cucumber; Base: Vanilla, Beeswax, Cedar
Grapefruit: Top: grapefruit; Mid: Sweet Pepper, Mint, Rosemary; Base: patchouli
Peony:Top:Apples; Mid: Peony; Base: Sandalwood
Honey:Top: Black currant Mid: Peach Base: HoneyMatters Needing Attention
Remember to keep the wax level as far as possible. Keep burning for 1-2 hours until the surface is completely melted and the wax pool is completely opened
If the candle wick is found to be too long before lighting, be sure to trim the candle wick to 5-8mm
Before extinguishing, dip the candle wick in the wax with a tool to reduce the smoke generation
Candles should be burned in line of sight, away from children and pets, and away from flammable and explosive materials.
Size&Weight
Item Weight: 7 Ounces
Product Dimensions:2.8"W x 3.6"H
Operating Time: 40 Hours
Material: Soy Wax