5 Best Seamless Workwear Sets for Women
Ready to take your work clothes to the next level? We have just what you need. The greatest seamless workwear sets for women. Our five picks are designed to give you both style and comfort. Let's start off with number one.
Let's start with this marvelous wear. It's the perfect everyday fit. Made with high-quality material, it prioritizes your comfort by wicking away moisture during workouts. This jumpsuit also has an edgy look courtesy of its zip closure and stand collar. Style comes at a premium with three color options: blue, coffee apricot, or black.
Fit is important, so this jumpsuit is slim-fit and ankle-friendly. Taking care of it won't be difficult either as it can be machine-washed without exceeding 30°C. But don't dry clean, bleach or iron it too hot though, you'll ruin it that way. Line drying is the best way to maintain its perfect look when you're done cleaning it up.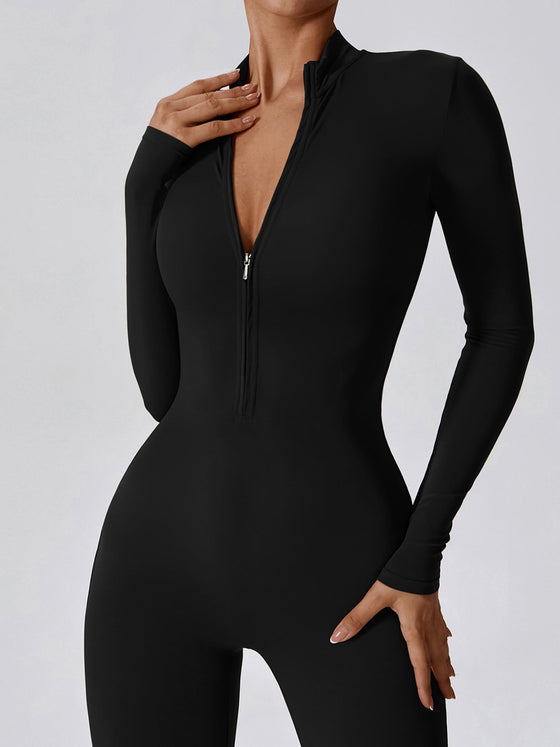 You know those days when you just want comfort without having to sacrifice style? Well, here is something that can do both. Introducing the seamless gradient color leggings!
These high waisted leggings come in a range of colors that include green, gray, blue, yellow, light green, purple, and wine red.
They're made from 87% nylon and 13% spandex, which makes them fit like a glove and show off those calves of yours. The best part is they're both comfortable and stylish at the same time. Washing them is an easy process as well! Just toss them into your washing machine and set it to cold wash.
If you wear shorts often, then you absolutely have to check out these – cross waist yoga shorts with pocket. It comes in 5 different colors that include: green, yellow, red, purple, black, and white.
It's made with a blend of nylon and spandex material that'll produce slim-fit shorts, all while giving great comfort during use.
The length is perfect at 3 inches too. And the drying process uses line drying instead of using the dryer to preserve its quality, so long as it doesn't exceed a temperature higher than 30°C. Do everything you can to not dry-clean or bleach clean it, either. And last but not least, don't go crazy with ironing it too much, either.
A 2nd-skin romper that combines style and function. The Elastic U-neck Yoga Romper is perfect for people who value both aspects of their workout outfit. Pink, black and coffee are the available colors for this booty hugging spandex material.
Slim fit design through the whole romper with a length of 3 inches. It's crafted from 87% Nylon and 13% Spandex, making it perfect for even the sweatiest workouts. If you're having a calm day at the gym where you barely sweat or push yourself, then just use your washing machine on cold to keep it clean.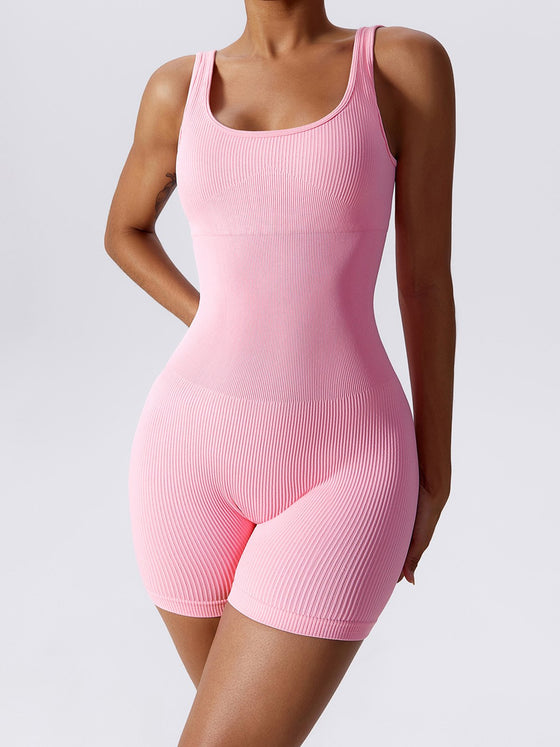 Last but not least, we have a bra that doesn't fail to provide support during your intense workouts. The 2nd-skin High Support 2-Way Sports Bra comes in Yellow, Black, Navy Blue, and White, giving you options.
With all its straps and elastic material, nothing will move out of place while enhancing your body's experience exercising. And if you're going hard, get ready for a seamless design that guarantees comfort and style. Lastly, it's equipped with pads to offer support, so stay as active as you want without worrying about anything holding you back.
Care and Maintenance
Taking care of your seamless workwear sets is important to keep them in good quality. It doesn't matter if you're wearing the Zippered Seamless Long Sleeve Yoga Jumpsuit, Gradient Color Seamless Leggings, Cross Waist Seamless Yoga Shorts, Elastic 2nd skin U neck Yoga Romper or the Seamless 2nd skin Criss Cross Hollow out Sport Bra; there are a few steps to follow.
First off, when washing them, put them at a cold temperature.
Avoid using bleach and excessive ironing. Both can harm the fabric pretty badly.
Lastly, choose to air dry them so that their form and flexibility stay intact.
We made these top 5 Women's Seamless Workwear Sets for not only style but comfortability as well. Whether you're going to the gym or going out with friends, these sets are perfect for you. Just make sure to take care of them the right way, and you'll be rocking them for a long time.