Bullseye AHA Advanced PRO 1.0 Carbon Fiber Pickleball Paddle
Tailored for seasoned players aiming to achieve greater power and precision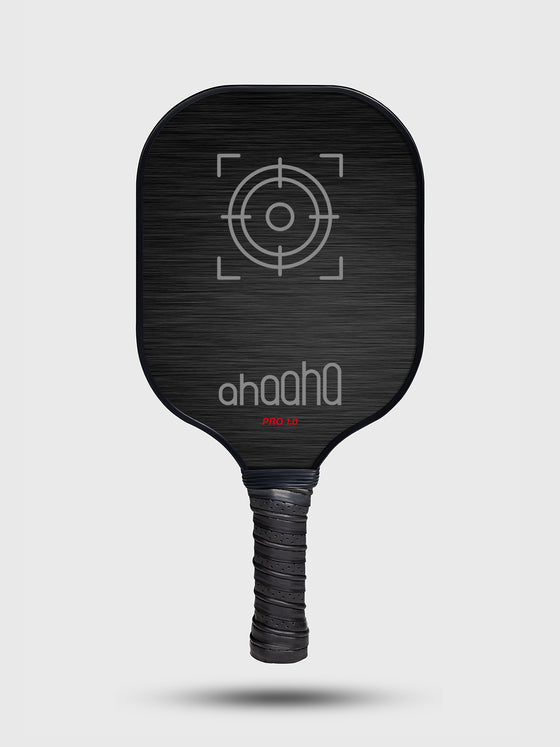 Bullseye AHA Advanced PRO 1.0 Carbon Fiber Pickleball Paddle
Tailored for seasoned players aiming to achieve greater power and precision

AHA PRO 1.0 pickleball paddle, tailored for advanced players craving more power. Crafted with T700 carbon fiber and Unibody design, it delivers unmatched strength, durability, and responsiveness. Bi-directional, cross-weave carbon fiber technology creates a larger sweet spot, longer resonance, and consistent spin. Engineered for optimal performance, the advanced textured surface boosts spin. Elevate your game with this powerful and precise paddle.
USA Pickleball Certified: This paddle with the pattern has not yet applied for USA Pickleball (USAPA) certification, but it meets USAPA standards (same parameters as our other approved paddles).

Good paddle for the money
I've used many paddles but this is my favorite - perfect size, great pop. Well-made, comfortable paddle. After trying many, this paddle is the winner for me.
Great for couple
Already used it plenty. Grip is just what I needed
Good quality
I was able to test out this paddle today and I'm happy to report it is very lightweight and easy to swing. The light weight makes it really maneuverable yet I don't feel like it lacks any power or stability. I was able to place shots with control and get good spin on the ball during my game. The paddle surface provides a nice grip too. Overall, it was a great playing experience with this paddle. I'm definitely going to be recommending it to my pickleball friends and family members. For anyone looking for a lightweight paddle that won't tire out your arm, this is an excellent option to consider