LimeAurora ahaaha Advanced PRO 1.0 Carbon Fiber Pickleball Paddle
Tailored for pro players: more power, more control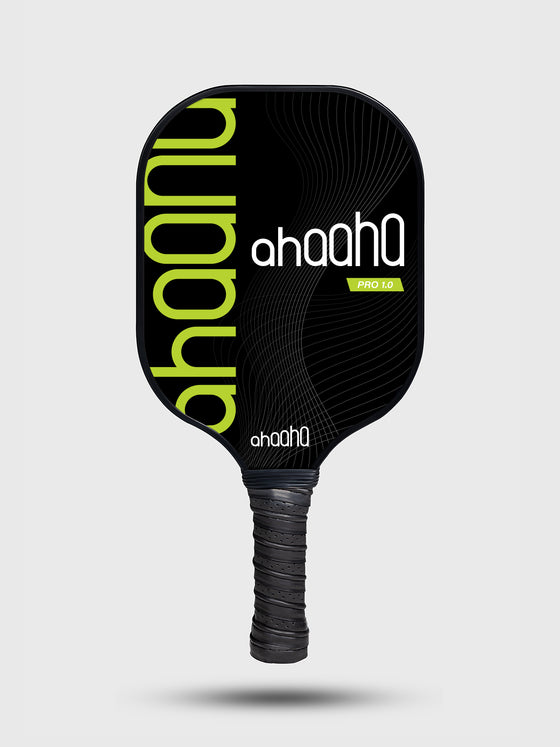 LimeAurora ahaaha Advanced PRO 1.0 Carbon Fiber Pickleball Paddle
Tailored for pro players: more power, more control

AHA PRO 1.0 pickleball paddle, designed for advanced players seeking more power. Crafted with T700 carbon fiber and a Unibody design, it offers unparalleled strength, durability, and responsiveness. The bi-directional, cross-weave carbon fiber technology delivers a larger sweet spot, longer resonance, and consistent spin. Engineered for optimal performance, the advanced textured surface increases spin. Upgrade your game with this powerful and precise paddle.
USA Pickleball Certified: This paddle with the pattern has not yet applied for USA Pickleball (USAPA) certification, but it meets USAPA standards (same parameters as our other approved paddles).

Highly satisfied
After the first hit I could already tell this paddle was far superior to others I tried. It has a great feel, nice sweet spot, and the ball just pops off the surface cleanly. Would definitely rec this paddle to a friend if they want a top notch one
Spin and Performance.
Me and my wife originally had entry level paddles that was fine til I started seeing other players getting better performance from they paddles. I wasn't getting the topspin or sidespin others was getting, even tho I thought I was hitting the ball right. So I upgraded to the AHA pro 1.0 paddle, and now im getting similar performance like I seen from experienced players. Im real happy with the paddle. The performance, cost, look and feel, and durability is all real good - way better than the entry-level paddle I had before. Def recommend this paddle if you wanna upgrade from a basic starter one and get better spin and performance.