Scented Candle In Embossed Glass Aromatherapy Candle 3.9 Oz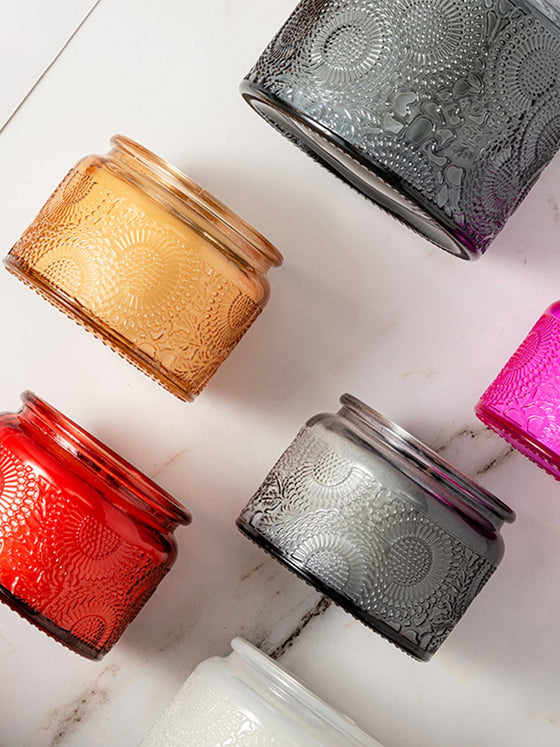 Scented Candle In Embossed Glass Aromatherapy Candle 3.9 Oz

This is AHA moment!
It is a Scented Candle in Embossed Glass. The Aromatherapy Candle perceives the beauty of life through its aroma, creating an inspired addition to your home.
Product Feature
The appearance of an Embossed Glass
High-quality candlewick and soybean wax
A variety of characteristic fragrances
These decorative candles have a clean burn lasting at about 24 hours
Suitable for bedroom, study, and other small space
Fragrance Notes
Jasmine Noir: Top notes are Gardenia and Green Notes; middle notes are Jasmine Sambac and Almond; base notes are Licorice, Tonka Bean, Precious Woods, Amber, Musk, and Patchouli
English Pear & Freesia: Top Notes: Melon, Pear, Bergamot; Middle Notes: Freesia, Rose; Base Notes: Musk, Cantonese, Amber, Rhubarb
Juniper Lavender: Top Notes: Juniper Lavender; Middle Note: Moss; Base Notes: Verbena
Bluebell: Top notes: Bellflower, Lilac; Middle Notes: Jasmine, Lily of the Valley, Rosehip Base Notes: Musk, Amber
Tuberose: Top notes: orange blossom, rose, iris; Middle Notes: Tuberose, Pink Pepper; Base Notes: Benzoin, Musk
Misty Forest: Top notes: water chestnut, peach, bergamot, neroli oil; Heart Notes: Oriole, Lilac, Jasmine, Lily of the Valley Rose; Base Notes: Amber, Sandalwood, Tonka Bean, Musk, Benzoin, Vetiver
Matters Needing Attention
Remember to keep the wax level as far as possible. Keep burning for 1-2 hours until the surface is completely melted and the wax pool is completely opened
If the candle wick is found to be too long before lighting, be sure to trim the candle wick to 5-8mm
Before extinguishing, dip the candle wick in the wax with a tool to reduce the smoke generation
Candles should be burned in line of sight, away from children and pets, and away from flammable and explosive materials.
Size & Weight
Item Weight: 3.9 Ounces
Product Dimensions:2.8"W x 4.5"H
Operating Time: 24 Hours
Material: Soy Wax