3 Recommended Workout Dresses with Style
You can always work out in style and have fun burning those calories. Efficient exercise includes wearing the right clothes for the occasion. Today, there is a lot to wear when working out for comfort.
Apart from shorts, t-shirts, and yoga pants, you can opt for workout dresses. Do not raise your eyebrows yet. Some exercises, such as playing tennis, can be easily done in workout dresses. Below are three recommended workout dresses to consider purchasing for a change.  
Available in blue, green, white, and pink, the backless 2-in-1 workout dress is a stylish piece to consider having. The backless design and straps look stunning together, giving you a gorgeous look.
You can wear the clothing with a light jacket for those chilly mornings. It has a sweetheart neckline that flatters your physique and comes in small, large, and medium sizes for a secure fit. The tennis dress consists of super-soft fabric and has an in-built bra to provide the support you need throughout your workout sessions.
The dress also comes with stretchy shorts for a proper fit. You can work out comfortably without any worries and have fun while at it. Enjoy your runs and other workouts with this 2-in-1 dress.
Moreover, the straps on this dress are adjustable to fit correctly for a stunning look during exercise. You do not want a dress with straps that easily come off and affect your performance. The velvet-like, quality material used to make the dress is breathable, fostering comfort when you sweat. From the available shades and sizes, you should be able to get a workout dress that fits you right.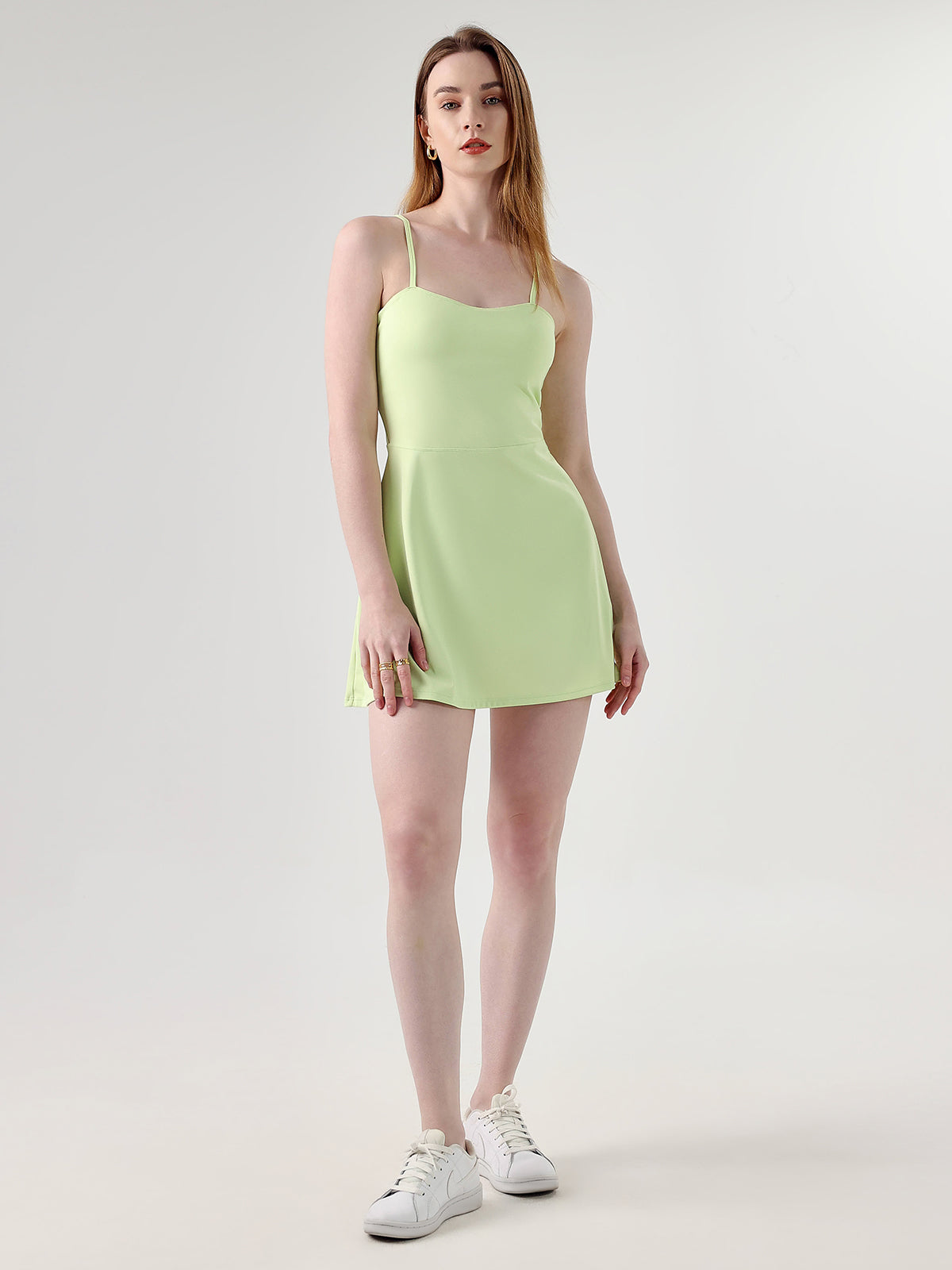 Any woman's wardrobe has a lovely flare dress, considering its flattering design. The CoolBreeze 2-in-1 flare workout dress is a piece to keep in mind when shopping for exercise gear.
It comes in marvelous hot pink, lavender, black, and beige colors. You can get it in small, medium, and large sizes for a secure fit. Comfort is everything when working out. An outfit that is too big or too tight can get in the way of you enjoying your workouts. The flare workout dress has cross-back straps that add to its beauty.
The inner side pockets on the dress give it a seamless look. It is made from light, soft material that feels great on the skin, ensuring a good time on the court. Moreover, the U-shaped neckline provides adequate coverage as you make different moves when exercising.
The dress design also includes a low-support incorporated bra to keep you comfortable as you enjoy your workout. It provides a tight, comfortable fit and consists of nylon and spandex. You can machine wash this workout dress and continue enjoying its soft, luxurious feel on your body. Add color, style, and elegance to your workouts with this CoolBreeze flare dress.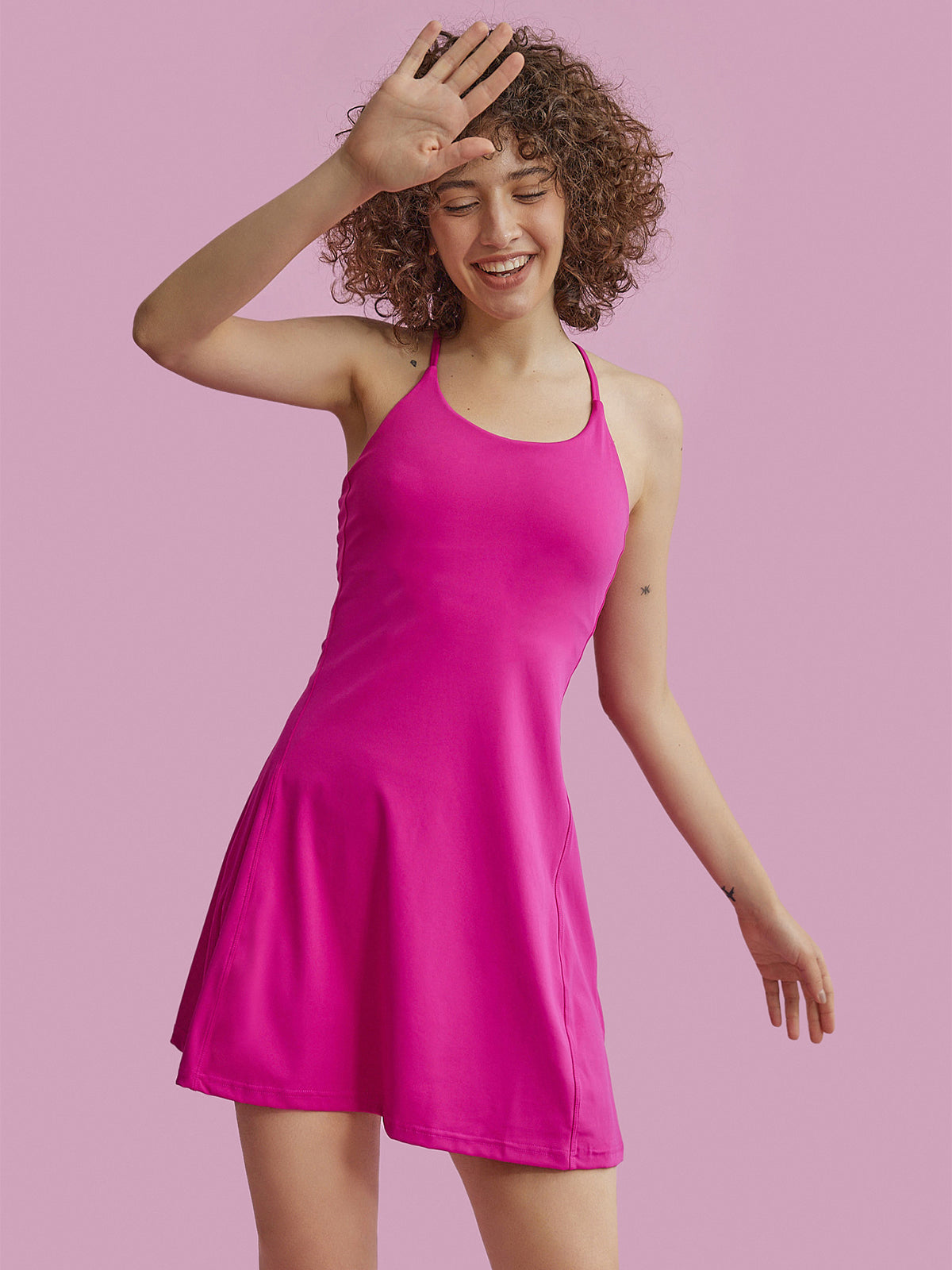 Stay elegant when working out with the CoolBreeze Crisscross 2-in-1 Flare Workout Dress. It is available in blue and black shades that bring out your lovely physique. It has a U-shape neckline that looks stunning on everyone.
The dress also has cross-back straps that look spectacular on your body. Use the side pockets to carry small items like keys and free up your hands.
It also comes with separate elastic shorts to allow you to move freely and have a good time exercising. The shorts are made from breathable fabric to keep your body cool as you put your muscles to work.
With this workout dress, you also get an in-built bra to ensure proper bust support throughout your exercises. It is comfortable and made of high-quality materials, available in different sizes, small to extra-large. You can machine wash this workout dress.
It is simple to wear and keeps you comfortable at all times. You can pair the shorts with another workout dress and enjoy the softness and elegance.
Your workout clothing should include workout dresses. They are flattering and come in lovely designs to match your style. Show off your tennis skills in a gorgeous workout dress like the ones discussed above.
They are stylish, made from quality materials, available in different shades and sizes, and feel soft on the skin for maximum comfort when working out.