How to Measure Mens Shirt Size?
We all have our tastes or preferences when it comes to the clothes we wear, and while Men's shirts are available in all sorts of sizes and materials, there are basic guidelines that you can follow to get just the right fit. These guidelines apply to everyone, regardless of size, age, or  complexion. You have to get the fit right from the start because, unlike your pants or blazers, there's not a lot of wiggle room for adjustments.
Alterations will not only cost you more but is visible and might make your shirt seem a wee bit messy. Here is how to go about men's shirt measurements to look sharp and confident.
How Should a Men's Shirt Fit?
Collar
The collar should rest comfortably around your neck. It should lay close to your neck but shouldn't be too tight. You should easily fit two fingers; if you can't button the collar with just two fingers, the shirt is probably too big.
The little gap will allow airflow to your body.  The collar highlights our facial features, so if you have a round face, a pointed collar is your best bet if you have a round face, while a spread collar will work best if you have a narrow face.
Torso
If your shirt is a perfect fit, buttoning it up shouldn't be a hassle. The part where the buttons and the holes meet should perfectly sit in the middle of your ribcage to make tucking in easy.
Shoulders
A perfect-fit men's shirt should rest against your shoulders right where the shirt sleeve joins the body. Shirts from regular cloth companies are often cut to a loose fit, so their seam often falls down the arm. The shirt is the wrong fit if the shoulder seam goes up to your neck because of the armhole's design.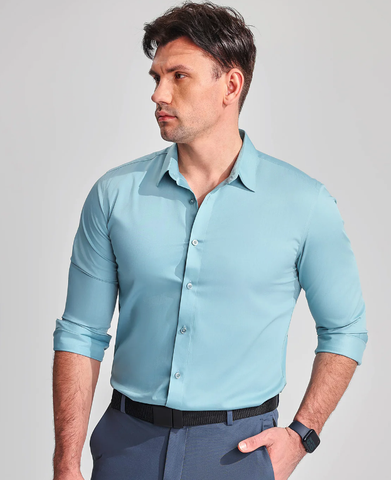 Sleeves
The sleeves should fit comfortably without being too tight to reveal your biceps, but you don't want it to look too baggy. The space for airflow should be enough, and the cuff should reach the joint of your palm and wrist, an inch over the wrist bone. It has to fit tight enough that your palm can't slide out from under it but not so tightly that there is no airflow. When you bend your arm, your cuff shouldn't slide up your wrist by over an inch.
 Length
You need to make sure the length is correct. A short shirt will make you look taller than you, while one that's too long will make you look like you are drowning in your clothes. You want a shirt that is the correct length so you can wear it however you like.
How Do I Measure a Men's Shirt Size?
Collar Size
Start by measuring the collar size. Wrap the measuring tape around your neck, and remember to add about half an inch to get the best fit.
Sleeve Length
Start from the middle of your back, over the highest point of your shoulder, and down to the elbow. Keep going until you reach the wrist bone, bending your arm a bit to allow for some length adjustment.
This will give you your correct sleeve measurements. Cuffs mostly have two buttons, so fastening the inner button will leave you with a long, loose cuff. The outer button will give you a tighter fit on the cuff and a shorter sleeve.
Chest Width
Wrap the tape measure around the fullest part of the chest, under the arms. Remember the backside. The most common way to get this measurement is by placing the tape where your nipples and shoulder blades align.
Place your tape measure straight and level with the floor for correct measurements. A helpful tip is to hold the starting point of the tape measure between the arm and torso while wrapping it around your body.
Waist Width
Think of your natural waistline as the lowest point to wear your pants. Then wrap the tape measure around where you feel your waist is the slimmest.
Take Away
So there you go. You should now be able to pick a shirt that you'll look and feel amazing in. A quick fashion tip - no matter your body type, a fitted shirt always looks better than a baggy one. Trust me; it's all about the fit! Get your men's shirt fit from AHA SELECTED and enjoy the perfect fit experience.