5 Best Floral Dresses for Spring and Summer of 2023
Dress-form bouquets are the best. Spring is here and summer will soon arrive. Okay, but it still needs to. However, the weather is rather moderate. Once it gets to fashion, the brand-new season is one of the favorites; think denim, pastels, and the classic floral dress. 
They have been perusing the high street in quest of the most stunning flower dresses because Aha Selected is the go-to brand giving the dreamiest fashions for summer. Could you scroll down to see their best picks?
How should a spring floral dress be worn?
The styling options for a floral dress in the spring are countless! When the weather warms up, you'll be wearing one with a pastel coat or denim jacket, but if it's still freezing outside, you might choose a cute trench coat.
Regarding footwear, ankle boots will give your flowery dress a sharp and polished edge, while box-fresh white trainers will provide an air of effortless cool. The last piece of advice we have is to add a crossbody purse as an accessory. 
Imposing shoulders up the springtime vibe of a floral dress by several levels, in both short and midi lengths. Choose a platform boot or chunky sneaker, and style your ensemble like a baby-doll dress. According to fashion experts, the secret to balancing the flair and delicacy of the appearance is a substantial weight sole.
This cute floral dress from Aha Selected will help you achieve a laid-back look. Wearing boots with a floral dress keeps you warm. This midi dress has floral lace-up straps and is waisted and pleated. The material is viscose. It's the comfortable lining and adjustable straps make it simple to make a French romantic look.
Features
Thin, adjustable straps
Waist style
Floral pattern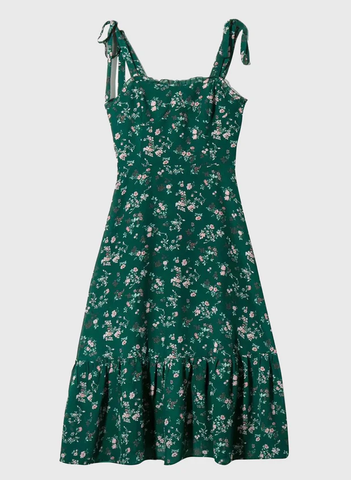 The top floral prints, outfits, and fashion trends for 2023. Are flowery dresses fashionable in 2023? Floral elegant dresses are always a timeless summer trend; the cut, detailing, and IT brand vary from year to year.
A floral square-neck, flared midi dress with no back is here. The material is polyester. The light shines on your cheerful face as you run amid the growing flowers wearing this floral dress.
Feature
Similar-colored lining
Floral pattern
Floral Print High-Low Dress
Put one of those out-of-office outfits on and enable automatic email replies. Crochet or beige linen are beach-appropriate alternatives to tropical designs embroidered with flowers. This high-low dress's floral print will give you a summary appearance and feel.
It is made of polyester and has a flower pattern that dances across navy blue chiffon in shades of cream, rusty rose, blush pink, rusty rose, and green.
Feature
Princess-seam bodice with repositionable spaghetti straps
High-low midi skirt with wrapping and a fitted waist
Back zipper/clasp hidden
With their continued appeal, as shown at SS2023, they have long been a mainstay of the summer wardrobe. It may alter in cut, style, and print size, but the print will always be a timeless classic. This midi dress features a square neckline and floral design. The material is viscose. Each time you wear this dress, you'll be happy!
Features
Long sleeves, back zipper
Slit pattern and floral pattern
Child showers? Graduations? A spontaneous tea party? Another fantastic alternative for casual dress codes and a touch of Old-World grandeur are floral jacquard dresses. These gowns' textured botanical embellishments come from designs woven into the fabric rather than an all-over print. Versions with puff sleeves and tiers trend toward a tacky parlor appearance.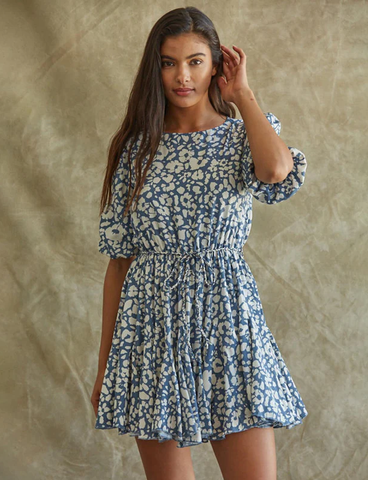 This floral dress has a bow- and belt-cinched high-waisted skirt with a small waist for a hint of elegance. The gorgeous floral print gives your outfit a nice and delightful finish.
Features
Round neck
Designing the waist to improve your body shape
A beautiful and vintage look
In your closet, grow at least one small floral plant. One of the countless aughts trends bringing a comeback is the ultra-mini hemline, but the fashion has more to offer than the current industry nostalgia trip. Such floral minidresses keep you cool throughout summer long and will highlight a party heel unlike any other. They come in silky slip fabrics or linen wraps.
Take away
There are many lovely things about spring, like longer flower buds, sunnier days, and sunnier weather. One of the nicest aspects of spring, though? Days in between temperatures are ideal for wearing one of the simplest outfits ever: a lovely dress.
Aha Selected completed your task; now it's time to choose the greatest flowery dress from their inventory.