The Best Cargo Joggers for Men to Wear in 2023
Cargo joggers are great casual wear. They are comfortable and versatile. Below are some of the best cargo joggers for men in 2023.
M's Tactical Cargo Jogger
Available in different colors, M's Tactical Cargo Joggers provide comfort during exercise. You can also wear them throughout the day, as they consist of breathable material. These cargo joggers come in small to extra-large sizes. They are made from four-way stretch fabric for easy wearing and flexibility. They have an elastic waistband with drawcords, ensuring a comfortable fit. The fabric is also sweat-wicking, fostering comfort. These pants have a towel holder and zipper slit leg hems that make wearing even easier. Use the five pockets to carry various valuables when moving around.
M's French Terry High Rib Jogger
M's French Terry High Rib Cargo Jogger look great on everyone. They are high-quality and come in various colors to suit your taste. They are breathable and made from French terry cotton blend fabric. Use the drawcords to ensure a good fit with the elastic waistband. You can wear the pants indoors and outdoors. They are sweat-wicking and have high-rib hems. The towel loop keeps it accessible as you work out. The five pockets are designed to provide adequate storage space, saving you the trouble of carrying extra luggage. There is also a back zip pocket to ensure you do not lose any valuables.
M's Quick Dry Performance Cargo Jogger
M's Quick Dry Performance Cargo Joggers are lightweight sweatpants that provide comfort at all times. They are made from breathable, stretchy fabric to ensure you are comfortable when working out. The fast-drying material is also water-resistant. The pants have an elastic waistband and drawstrings to ensure a snug fit. They also have ribbed leg hems that add style to the joggers. Enjoy the big cargo pockets and the back zipper pocket that keeps your items safe when moving around. The joggers also have a towel loop for workouts.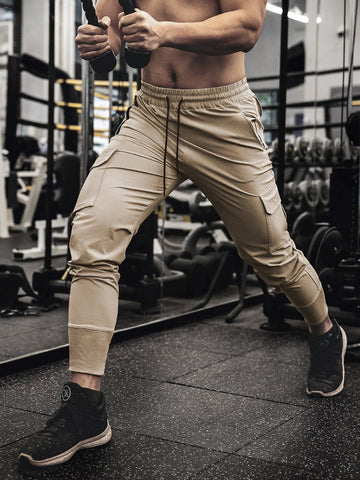 M's Lightweight Quick Dry Cargo Jogger
M's Lightweight Quick Dry Cargo Joggers are comfortable and have two hand pockets. They also have cargo pockets with a snap flap. The pants are made with breathable fabrics. You can wear them indoors and outdoors for needed comfort. They have a stretchable waistband and drawcords to ensure a proper fit. The fabric wicks away sweat to keep you comfortable. Available shades to choose from include grey and black. The pants' lightweight, quick-dry design fosters comfort during workouts and casual settings.
M's Shift Outdoor Cargo Jogger
Available in different shades and sizes, M's Shift Outdoor Cargo Joggers are elastic pants with water resistance and a windbreaker design. The waistband is stretchy with a drawcord for adjustments. Use the side pockets with zippers to keep your essentials. The breathable fabric promotes comfort, while the fitted cuffs ensure no distraction when exercising. Get to work out in pants that fit properly and are not too tight. They are made of 90% nylon, and the rest is spandex. Machine wash the pants and continue enjoying the breathability and comfort  they offer.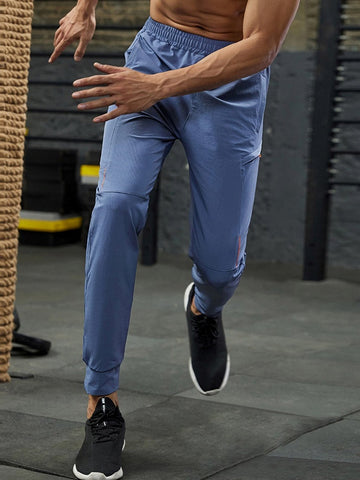 Gym Bestseller Joggers 2 Pairs Pack
The Gym Bestseller Joggers 2 Pairs Pack consists of the cotton-blend tactical cargo jogger and quick-dry performance cargo jogger. Switch between the two pants and enjoy the convenience. They provide a proper fit and have pockets for storing essentials. Use the towel loop when working out for quick access. The pack also comes in different color combinations to ensure you get the match you like. Spice up your gym sessions with these pants, which have an elastic waistline and drawstrings for comfortable fitting.
Active Gymwear Pack Two Piece Set
The Active Gymwear Two Piece set carries M's Core Hooded Long Sleeves Shirt and M's Tactical Cargo Jogger. The set is made from soft fabrics and provides a good fit. The hooded shirt is made from quick dry, breathable, lightweight fabric and has a reflective detail for safety. The pants have an elastic waistband, pockets, and a towel loop. This set comes in different color choices for a stunning look for the gym or casual wear.
The above cargo joggers are a great place to start when looking for casual and gym wear. They are comfortable and ensure flexibility. They are also made from breathable fabric and have pockets to store various items when moving around.