Best Tank Tops for Women That You Want to Wear Everyday
The term "tank top" refers to a sleeveless, racerback top. They are typically waist-high or cropped and made of cotton, spandex, or synthetic materials. You can go for the design and material that works for you if you want to layer the top, rock it on its own, or for a workout.   Its versatile simplicity makes it a great wardrobe item for multiple outfit styles.
There are a variety of tank designs, so searching for the perfect one is a daunting task. Not to worry, though; we've compiled a list of what we think are the best tank tops available right now, so read on.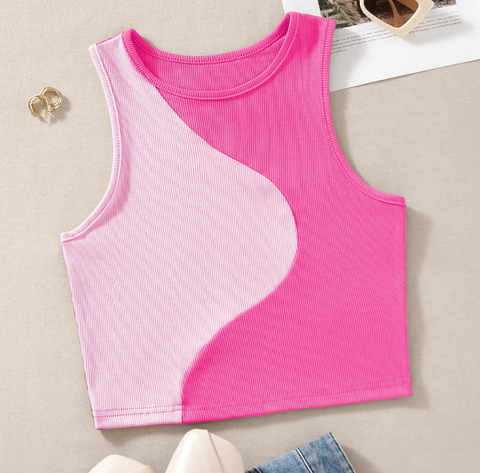 What Are the Different Types of Tanks Tops?
Basic White Tank Tops
Most of us have at least one tank top like this in the closet. These tank tops are 100% cotton, but spandex fabric is sometimes used to provide a pleasant stretch for any activities. Their texture is mainly ribbed, and you can order them with either standard or spaghetti straps.
Style Tip: This tank top looks great with jeans, a blazer or jacket, and some loafers.
Athletic Tank Tops
This close-fitting top is ideal for the gym. It provides the necessary support for the bust, and the bandeau bra lessens the impact of the workout. This tank is incredibly flexible and comfortable because it is designed to be athlete friendly.
Men tend to wear sports tank tops that highlight their biceps and muscles.  This tank top fits various body types and sizes for optimal comfort during exercise.
Style Tips: Try them with shorts or sweatpants and running shoes. 
Backless Tank Tops
Such tank tops have a narrower strap made from lace across the back. It's a stylish tank top since it makes you look fancy. You can wear them anywhere, from the office to a party.
Style Tips: You can wear this bare-back tank top with a skirt or jeans and accessorize with heels or boots to achieve a seductive look.
Double Layer Tank Tops
Because of the flared hem, this layered tank top is flattering on a wide range of body shapes. In addition, you can wear them over a fitted tee to create a streetwear-inspired outfit. Double-layer tank tops are typically made of cotton or silk. However, they are improved using chiffon or other delicate fabric.
Style Tip: Wear this tank with a pair of denim shorts, dusty strappy sandals, a chic bag, and some layered jewelry if you love bohemian. Alternatively, wear it with jeans for a simple look.
Best Tank Tops for Women
This soft and trendy camisole is made from a blend of mulberry silk and spandex. It has a U neckline and thin straps. You can style it with any item in your closet for casual, or office outfits. Layer it or tack in a pair of high waist pants and look fantastic.
This cute and cozy cropped top has a built-in cotton chest pad and is made with extra-soft viscous polyester fabric. It's great for workout or as a home outfit. You can go for a daring twist by pairing it with your favorite sexy bottoms.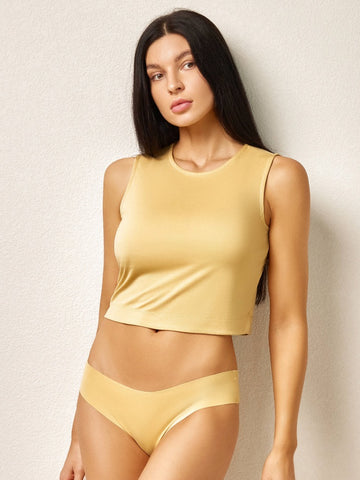 This is an edgy cut out cropped top with an elevated touch, made with cotton, polyester and is stretchable and comfy. This top is elegant enough to wear on its own. Put together any color available with a pair of denim jeans for a simplistic but chic look.
This piece has a rib-knit pointed hem, is made with cotton and polyester. Stretchable for comfort. This tank is way fancy and you'll look like a fashion icon. It works well with a short denim skirt or wide leg pants. Add some chic with a minimalist necklace and you are good to go!
This tank top made from premium drape viscose polyester fabric is great for your casual look outfit ideas. It has a round neck and a touch of elegance from the irregular hem. Have fun layering it with a trendy jacket or wear it on its own with a pair of skinny jeans and a statement necklace.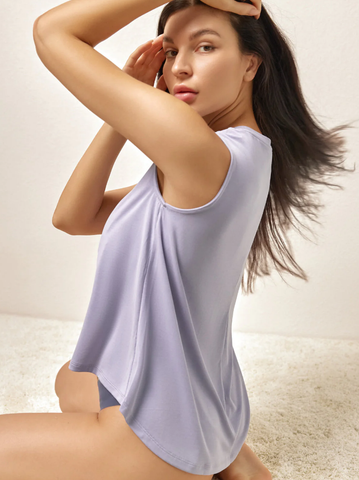 Take Away
Need help with outfit ideas? You can start with the options listed above if you're tired of the same old mixing and matching. You'll feel like a million bucks and have the most confidence.