HERIVI Anti-Aging Ampule Serum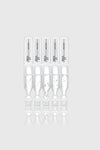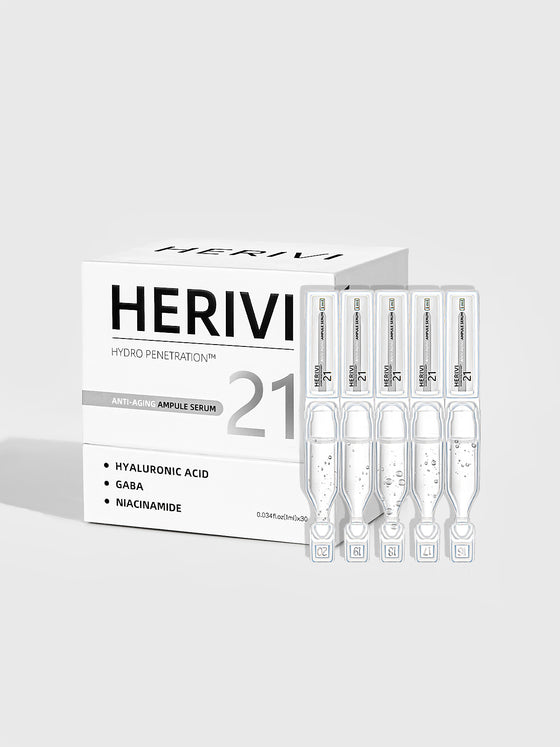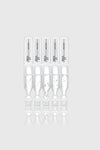 HERIVI Anti-Aging Ampule Serum

AHA MOMENT
The anti-aging serum is an effective anti-wrinkle, repair, whitening, and moisturising product. It can safely and slowly smooth the traces of time, let youth forever, and is suitable for many occasions.
WHAT IT IS
The anti-aging serum contains double BX, 3D HA, Nicotinamide, and many natural extracts, which can penetrate deep into the skin, effectively smooth fine lines, slow down aging, and adjust the skin barrier.
KEY INGREDIENTS
BEFORE & AFTER
HOW TO USE
Take out one ampule of serum from the box.
Rotate to open the cap, and squeeze the serum onto your palm.
Spread the serum evenly on your face and neck, and massage gently until it's thoroughly absorbed.
The serum can be used separately or mixed with other skincare products on your routine.
- Daily care: Apply the essence, completely absorption and then follow up the skin care.
- Matching Skincare: 1-3 drops per toss + lotion / lotion / eye cream / face cream.
- After the use of cream: after the absorption of the cream daub the secondary cast, encapsulation function.
- Sandwich usage: half serum + mask + the other half, leading to the double effect.
- DIY Mask: 2 pieces of serum + mask paper + 20ml purified water.
- Intensive after-care of micro-invasive treatments: 1 each for morning and evening.

Amazing!
My skin was ravaged from critical health issues (cancer, coma, pneumonia) and was in desperate need of extreme repair. I ordered Anti aging Serum and was amazed at how quickly my skin improved. The dry flakiness, the lines, the aged appearance disappeared within two weeks of using the Anti aging Serum. I received Read more about review stating Skin saving miracleso many compliments on my skin, how I looked and overall healthy appearance. Love it!
Really works
I use this every morning. It's been really helpful on the fine lines in my skin and feels very fresh.
Love it
I'm not very good with leaving reviews but here's one I managed to do. Youth serum is amazing and my skin is so soft, glowing, firmer and always getting compliments about my skin. Just ordered my 2nd one for other products, cannot do without HERIVI. Will be trying the repair serum soon ☺️
Just some photos of my skincare products 😍… Am obsessed but I love them all !!