HERIVI Repair Ampule Serum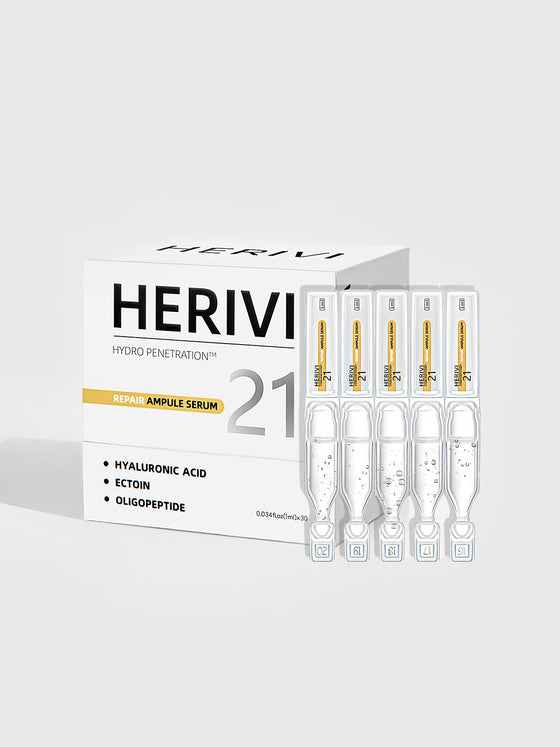 HERIVI Repair Ampule Serum

AHA MOMENT
The repair ampule serum contains moisturizing, easing, and strengthening ingredients, like hyaluronic acid, acetylchitosamine, Ectoin, etc. It can solve skin dehydration,  redness and peeling, irritation, and other discomforts, using aseptic production technology and self-developed ingredients formula, specially created for sensitive skin.

WHAT IT IS
The repair ampule serum is a hydrating and repairing essence specially created for sensitive skin. It uses natural and self-developed ingredients to accurately solve skin problems, provide all-around protection for the skin, and rebuild a healthy barrier.
KEY INGREDIENTS
- 4D-HA: Transport water to dermis effectively, replenishing from the very deep, give skin dual-experience of hydrating &  strengthening skin barrier, lock in the moisture, keep hydrated to soften epidermis while lock in the moisture
- Ectoin: Reduce the damage of inflammation on the skin, enhance fibroblast activity, restore skin elasticity and repair anti-aging.
- Multi Plant Extracts: Extracts of Arnica, Althaea, Peony, Tilia Linden and other plant extracts do good in relieving skin redness, soothing, calming, with antibacterial and anti-inflammatory effects.
- Compound Oligopeptides: Balance the internal skin environment, promote cell layer renewal,  and rebuild healthy skin barrier.
HOW TO USE
Step 1: Take a serum after cleansing
Step 2: Twist to unscrew and drop to hand
Step 3: Apply the serum evenly to your face
Step 4: Massage from the inside out until completely absorbed
UPGRADE YOUR SKINCARE ROUNTINE
The serum can be used separately or mixed with other skincare products on your routine.
- Daily care: Apply the essence, completely absorption and then follow up the skin care.
- Matching Skincare: 1-3 drops per toss + lotion / lotion / eye cream / face cream.
- After the use of cream: after the absorption of the cream daub the secondary cast, encapsulation function.
- Sandwich usage: half serum + mask + the other half, leading to the double effect.
- DIY Mask: 2 pieces of serum + mask paper + 20ml purified water.
- Intensive after-care of micro-invasive treatments: 1 each for morning and evening.

The box contains 30 individually packaged units, ensuring cleanliness and hygiene. To maintain the product's efficacy, it is recommended to use it within 24 hours after opening. The active ingredients include 4DHA, Ectoin, and a complex of oligopeptides. It has a watery texture with excellent fluidity. When applied to the skin, it feels refreshing, and it is also very convenient to carry around. When used in conjunction with collagen protein spheres, the combined effect is greater than the sum of its parts.
I have found that it provides great moisturization and repair. It is particularly beneficial during the dry seasons of autumn and winter when the skin needs extra hydration. It can also be suitable for individuals with sensitive or prone-to-redness skin.
The individual plastic packaging is very convenient and easy to use, similar to the packaging of contact lens solution. You can simply twist it open by hand and squeeze the product onto your palm. Then, apply it evenly on your face and extend it to the neck area. The texture is incredibly hydrating, giving your skin a refreshing and quenched sensation. The fact that this essence comes in individual packaging is a major plus! The expiration date on my product is in 2025, so it is also very fresh.